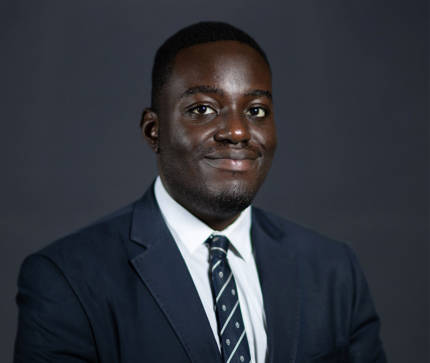 ---
Yann
Solle
Senior Associate
---
Yann SOLLE is a Senior Associate in the Firm.
Skills




Commercial law and distribution
Competition law
Public law and PPP
Real estate law
Mergers and acquisitions
Restructuring and companies in difficulty
OHADA law

Sectors




Mining and Natural Resources
Construction and public works
Real estate
Transportation
Government and public sector
Prior to joining the Firm, Yann Solle worked for Nyemb Law Firm, B. NEKUIE and PARTNERS, the French Institute of Cameroon and the Cameroon Oil Deposits Company.
He also contributed to the World Bank's « Procuring Infrastructure Public-Private Partnerships 2018 » report, a tool to help governments improve their legal and regulatory frameworks for public-private partnerships by comparing existing regulations around the world with internationally recognized best practices in this area.
Yann Solle is fluent in French and English.
Yann Solle holds:
a Master's degree in Public Law and a Master's degree in International Law from the University of Paris II Panthéon Assas,
a Bachelor degree in Private Law from the Private University of Tunis.
---
Yann Solle recently spoke about the financing and refinancing of CFAF 3,64 billion by Société Générale Cameroun for the construction of two Carrefour shopping centres in Douala and Yaoundé.
---
Yann Solle has written or co-authored the following articles:
Analysis of the Main Amendments of the 2020 Finance Law (Cameroon), Aurélie Chazai and Yann Solle, Chazai & Partners, 4 February 2020;
Intellectual Property Audits: A Promising Tool for African Companies, Yann Solle, Chazai &
Partners Newsletter no. 01 (Special Edition), December 2019;
The Cameroonian Petroleum Code's New Regime of Offences and Penalties: An Opportunity
for the Upstream Oil Sector in Terms of Compliance?, Yann Solle, Chazai & Partners Newsletter no. 01 (Special edition), December 2019;
Regulatory and Legal Framework of Investment in Gabon, Aurélie Chazai, Vanina Fonga and
Yann Solle, Lexbase Afrique-OHADA, no. 23 of 27 June 2019.