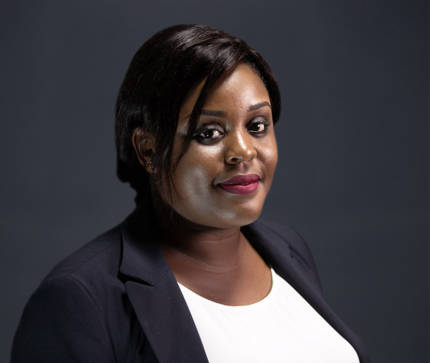 ---
Vanina
Fonga
Senior Associate
---
Vanina Fonga is a Senior Associate in the Firm.
Skills




Commercial law and distribution
Employment law
Mergers and acquisitions
Restructuring and companies in difficulty
Banking regulations
OHADA law

Sectors




Banking and financial services
Mining and Natural Resources
Technology and telecommunications
Luxury and hotels
Food processing and mass distribution
Transportation
Government and public sector
Prior to joining the Firm, Vanina Fonga worked at Nyemb Law Firm, where she was mainly involved in financial and commercial litigation and corporate governance matters.
She has also worked in the legal and tax department of Ernst & Young Cameroon and at Brain Trust Law Chambers in Douala.
Vanina Fonga is fluent in French and English.
Vanina Fonga holds:
a Master 2 in Business Litigation and Arbitration from the Catholic University of Central Africa (Yaoundé),
a Bachelor of Laws from the University of Buea.
---
Vanina Fonga has been involved in the following operations:
Refinancing of the residual outstanding amount of the « EOCG 6,5% net 2016-2021 » bond issue of the State of Congo by issuing Assimilable Treasury Bonds (OTA) in the amount of CFAF 120 billion (2020);
MFS Africa's US$3 million investment deal in Cameroonian fintech Maviance PLC (2020);
The financing and refinancing of CFAF 3,64 billion by Société Générale Cameroun for the construction of two Carrefour shopping centres in Douala and Yaoundé (2019);
The bond issue of the State of Cameroon for an initial amount of CFAF 150 billion, closed at CFAF 200 billion (2018).
---
She has co-authored the following articles:
Mergers and acquisitions: a development strategy for companies, Vanina Fonga, Chazai & Partners Newsletter No. 1 (Special Edition), December 2019;
Regulatory and legal framework for investment in Gabon, Aurélie Chazai, Vanina Fonga and Yann Solle, Lexbase Afrique-OHADA, n°23 of June 27, 2019;
Reform of the Public Procurement Code in Cameroon, Lexbase Afrique-OHADA, Aurélie Chazai and Vanina Fonga, No. 15 of October 25, 2018;
Focus on mediation: the landmark innovation of OHADA law, Aurélie Chazai and Vanina Fonga, Chazai & Partners, 15 March 2018.