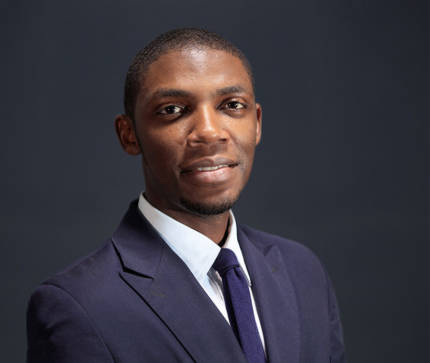 ---
Freddy
Mooh Edinguele
Senior Associate
---
Freddy Mooh is a Senior Associate in the Firm.
Skills




Project finance and PPP
Capital markets and private equity
Banking and financial regulation
Compliance
Investment funds and UCITS
OHADA law
Taxation and customs
Lobbying, public affairs and crisis management

Sectors




Banking and financial services
Mining and Natural Resources
Technology and telecommunications
Luxury and hotels
Food processing and mass distribution
Transportation
Prior to joining the firm, Freddy Mooh worked at Deloitte & Touche Cameroon, where he was involved in assignments to write off bad debts of banks.
He also worked at the Cameroon Oil Transportation Company (COTCO) and the Bank of Central African States (BEAC), in the National Directorate of Cameroon, where he notably evolved in the General Secretariat of the National Credit Council.
Freddy Mooh is fluent in French and English.
Freddy Mooh holds:
a Master's degree in Business Litigation and Arbitration,
a Bachelor's degree in Law and Political Science from the Catholic University of Central Africa in Yaoundé.
---
Freddy Mooh has been involved in the following operations:
The Republic of Cameroon's Eurobond through the issuance of an international bond, the redemption of an existing Eurobond and the early unwinding of a foreign exchange hedge for a final amount of CFAF 450 billion (2021);
Refinancing of the residual outstanding amount of the « EOCG 6,5% net 2016-2021 » bond issue of the State of Congo by issuing Assimilable Treasury Bonds (OTA) in the amount of CFAF 120 billion (2020);
The financing and refinancing of CFAF 3,64 billion by Société Générale Cameroun for the construction of two Carrefour shopping centres in Douala and Yaoundé (2019);
The bond issue of the State of Cameroon for an initial amount of 150 billion CFA francs, closed at 200 billion CFAF (2018).
---
He has co-authored the following articles:
Analysis of the major innovations of the 2022 Finance Law (Cameroon), Aurélie Chazai, Freddy Mooh Edinguele and Jean Baptiste Tsanga, Chazai & Partners, 16 February 2022;
Regulatory and legal framework of investment in Benin, Aurélie Chazai, Freddy Lionel Mooh Edinguele, Lexbase Afrique-OHADA, No. 19 of February 28, 2019;
Regulatory and legal framework for investment in Côte d'Ivoire, Aurélie Chazai, Freddy Lionel Mooh Edinguele, Lexbase Afrique-OHADA, No. 18 of January 31, 2019;
Increase in the share capital of insurance companies in the CIMA zone, Flora Wamba and Freddy Mooh Edinguele, Lexbase Afrique-OHADA, No. of November 29, 2018;