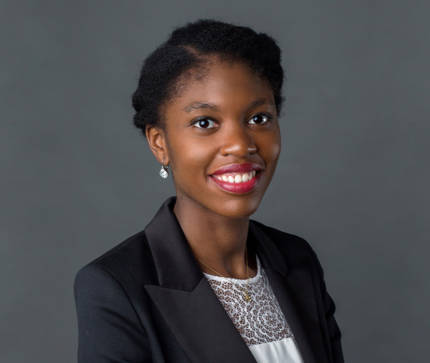 ---
Flora
Wamba
Co-founder Partner
---
Flora Wamba is a member of the Cameroon and Paris Bars and is the Co-Founding Partner of the Firm.
Skills




MARD (arbitration, mediation,...)
Banking and Financial regulation
Litigation
Business criminal law
Commercial law, distribution and competition
Energy and Natural Resources Law
Restructuring and companies in difficulty
OHADA law

Sectors




Insurance and Reinsurances
Transportation
Banking and financial services
Aeronautics and airports
Industrial risks
Mines
Real estate
Maritime
Flora Wamba has acquired a solid experience in insurance law, transport law, litigation and commercial law within the French law firm Herald (formerly Granrut) in Paris. She has been involved in both litigation and advisory work for insurance and reinsurance companies.
She has also worked for Gide Loyrette Nouel and Ernst & Young in Paris, as well as for the insurance department of Suez Environnement – Degremont and the legal department of the insurance company GMF VIE.
She is fluent in French and English.
Flora Wamba holds:
a Master's degree in Insurance Law from the University of Paris I Panthéon Sorbonne,
a Master's degree in International Business Law and a Bachelor degree in Private Law from the University of Paris I Panthéon Sorbonne.
She is a member of the International Association of Insurance Law (AIDA), a club dedicated to promoting and developing, at an international level, collaboration between its members with a view to increasing the study and knowledge of international and national insurance law and related matters, and is also a member of the African Congress of Business Lawyers (COJA), an association whose purpose is to bring together and decompartmentalize African Lawyers.
---
Flora Wamba has been involved in the following operations:
Compliance of a payment service provider with local regulations and completion of an intra-group asset transfer transaction;
Assistance to several banks before the state courts in the context of their banking litigation;
Legal assistance to several local and multinational companies in the drafting and negotiation of their commercial contracts and in legal secretarial matters;
Litigation before arbitration courts, particularly in the context of a partnership between two French insurers who have established a joint venture for the marketing of insurance policies in Vietnam.
---
She has organized and presented several trainings on the following topics:
Customer protection, from the Argus de l'assurance;
Anti-money laundering and impact on life insurance contracts with insurance companies.
---
She has also published the following articles:
The application of CEMAC foreign exchange regulation to companies in the extractive sector, Flora Wamba, Lexbase Afrique-OHADA No. 50 of 16 December 2021;
Covid-19: A Systemic Risk in the Insurance Sector?, Flora Wamba and Paul Ariel Kombou, Chazai & Partners Newsletter No. 03, March 2021;
Covid-19, Risk or Opportunity for CIMA Zone Insurers?, Flora Wamba, Lexbase Afrique-OHADA, No. 36 of 11 September 2020;
Third-Party Funding in Arbitration (TPF), Flora Wamba and Aurélia Kamga, Chazai & Partners Newsletter No. 2, January-March 2020.