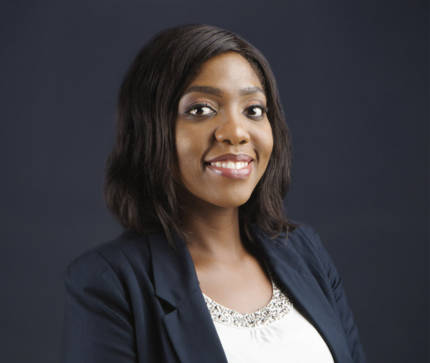 ---
Aurélia
Kamga
Senior Associate
---
Lawyer at the Cameroon and Nigeria Bars, Aurélia KAMGA is a Senior Associate in the Firm.
Skills




MARD (arbitration, mediation,...)
Commercial law and distribution
Mergers and acquisitions
Lobbying, public affairs and crisis management
OHADA law

Sectors




Aeronautics and airports
Agri-food
Tourism and hotel industry
Large-scale distribution
Telecommunications and media
Transportation
Before joining the Firm, Aurelia Kamga was an associate at Abdoul Bagui & Associés.
Aurélia KAMGA previously worked at the Institute of Community Law (IDC), in Abidjan – Côte d'Ivoire, as a legal officer in charge of programs where she planned, organized and set up projects and programs related to training in community law.
She also worked at the Arbitration Centre of the Common Court of Justice and Arbitration (CCJA-OHADA) where she gained experience in arbitration.
She is the representative of the International Chamber of Commerce Paris Youth Arbitrators Forum (ICC-YAF) for Africa, the Middle East and Turkey. She organizes, presents and participates in conferences around the world to promote Alternative Dispute Resolution among young practitioners and regional integration in Africa. She is also a member of various other professional associations such as the Association for the Promotion of Arbitration in Africa (APAA), the Association of Young Arbitrators (AYA) and the Young International Council of Commercial Arbitration (ICCA).
She is also an Associate of the United Kingdom Chartered Institute of Arbitrators (CIArb), one of the leading professional associations specialising in dispute avoidance and resolution, which provides, inter alia, study and training programmes for arbitrators and mediators.
She is fluent in French and English.
Aurelia KAMGA holds:
a Master's degree in International Relations with a major in International Litigation from the Institute of International Relations of Cameroon (IRIC),
a Bachelor of Laws from the University of Buea.
---
Aurelia KAMGA has recently been involved in the following operations:
The Republic of Cameroon's Eurobond through the issuance of an international bond, the redemption of an existing Eurobond and the early unwinding of a foreign exchange hedge for a final amount of FCFA 450 billion (2021);
MFS Africa's US$3 million investment deal in Cameroonian Fintech Maviance PLC (2020).
She has co-authored the following articles:
Regulatory and Legal Framework of Investment in Chad, Aurélie Chazai, Paul Ariel Kombou and Aurélia Kamga, Lexbase Afrique-Ohada no. 35, July 8 2020;
Third-Party Funding in Arbitration (TPF), Flora Wamba and Aurélia Kamga, Chazai & Partners Newsletter no. 2, January-March 2020.